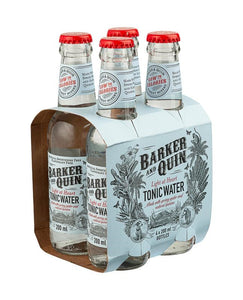 BARKER AND QUIN LIGHT AT HEART TONIC WATER 4PK 200ML
In 1827 the legendary John Ross set out on foot from Port Natal to Delagoa Bay to obtain medicines and other vital supplies for the stranded survivors of 'The Mary'. Although not officially recorded, two very special companions provided additional eyes and ears against the lurking dangers. Introducing Barker, the plucky fox terrier who understood the law of the jungle all too well, and the parrot Quin, a little wacky yet as wise and as true as the sky.
Barker and Quin is a premium tonic water producer. This means they select natural ingredients and quinine, mixed together with mountain spring water to form the perfect tonic water. They aim to supply tonic to the discerning gin drinker. Priding
themselves on delivering a consistent premium tonic mixer using all natural ingredients.
Keeping up with the Barker & Quin tradition and quality, "Light at Heart" is an all natural product. Low in sugar and calories, mixed with mountain spring water. Enjoy a guilt free refreshment that will keep you light at heart for every festive occasion.
COLOUR
Crystal clear.
AROMA
Fresh and aromatic, with a hint of citrus zest.
FLAVOUR
A combination of citrus notes and spices that are well balanced by the natural quinine. The latter providing ample structure to support the flavours and effervescence.
---
We Also Recommend