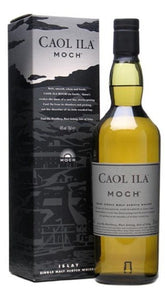 CAOL ILA MOCH 43% 700ML
$9699

$96.99
Tax included.
---
---
Moch is Gaelic for dawn, and this release from Caol Ila is an altogether lighter prospect than the distillery's excellent 12 year old standard expression.
Nose: Lemon sherbet and apple crumble topping with custard. Dry grass and not a hint of smoke.
Palate: Sweet lemon meringue pie and soft, very soft mouthfeel. The peat hits a third of the way in but it's restrained; soothing wood smoke rather than burning tyres, and it retains a sweetness throughout.
Finish: Soft drying smoke.
---
We Also Recommend