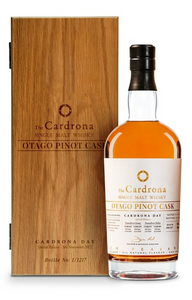 CARDRONA SINGLE MALT 'CARDRONA DAY SPECIAL RELEASE' OTAGO PINOT CASK 52% 700ML
$35099

$350.99
Tax included.
---
---
November 5th, the 7th year since spirit first flowed at Cardrona Distillery. Cardrona wants to send their Birthday off with a bang this Guy Fawkes Night with a very special release. The very first 700ml bottle and the first time the whisky has been proofed down at the distillery. 
A very special Cardrona Day release, this is what their single malt whisky will become in the next chapter from 10 years onwards. 
Only 1217 bottles produced for NZ, Australia, the UK and also America. They have married together 4 Central Otago Pinot Noir Barrel Aged whisky's and proofed it down to 52% using Cardrona's pure alpine water. 
Colour - Warm, rose gold
Aroma - Oak forward, black amber plum, nectarine
Palate - Firm, silky tannin, oak forward, dried raspberries. Opens to poached nectarine, toffee milk, roasted cashew and baking spices.
---
We Also Recommend