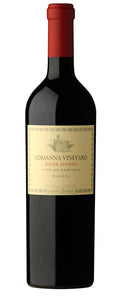 Catena Zapata Adrianna River Stones Malbec 2018
$26399

$263.99
Tax included.
---
---
This wine is made with grapes grown on the Catena winemaking family's Adrianna Vineyard, on the site of an old riverbed where white stones absorb heat and store it, aiding ripening of the grapes. 
Argentina?s signature grape was introduced to the country?s biggest wine region, Mendoza, by Frenchman Michel Pouget in the mid 1850s, but it has since been discovered that not all Malbec vines brought into the country were exactly the same. And the family that has done more to advance the understanding, high quality expression and understanding of Argentinian Malbec is the Catena family, whose Zapata Malbec is one of our favourite wines in store; big, bold and full bodied but with elegance to burn, thanks to its silkiness. 
The Catena family has arguably done more for the quality and reputation of both Malbec and the Argentinian wine industry than any other company, advancing the understanding of growing grapes at altitude, high up in the foothills of the Andes where hot days, high sunshine hours and cool nights ripen the grapes and retain elegance.
What the critics say
?Incredible aromas of blackberries, hot stones, wet earth and flowers. Full-bodied, it floats across the palate with ultra-fine tannins that melt into the wine. Superb, long finish of subtle fruit and terroir-defined subtleties. Try in 2022, but already a dream to taste.? 
100/100 
James Suckling
---
We Also Recommend