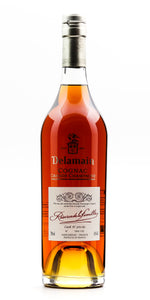 Delamain Cognac Res De La Famille
$67999

$679.99
Tax included.
---
---
Growth: 100% Grande Champagne.
Origin: Selection from local growers. Totally unblended single vineyard and single cask.
Age: The maximum length a cognac can improve in cask.
Cask: Matured in well seasoned Limousin oak casks (350L).
Cellar: Old cellars near the river, more humid than dry.
Style: Our standard of perfection. Extraordinary delicacy in a rich flavourful cognac. Bouquet and savour: From a cask to another one, the cognac is different but, to our mind, always a diamond of unmatched purity miraculously carved by nature.
Colour: Each cask imparts its own colour to the cognac; no regularity but generally paler and more brilliant than most of the other top of the range cognacs. 
Natural strength : 43% vol. Name : "LA RESERVE DE LA FAMILLE", an exceptionally rare cognac, the kind of cognac we reserve for our guests and friends.
source: delamain-cognac.com 
---
We Also Recommend