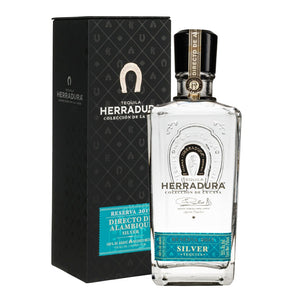 Herradura de la Casa Directo 2015 55% 750ml
$12099

$120.99
Tax included.
---
---
THE EXPRESSION
Tequila Herradura Directo foregoes the barrel-aging process to preserve a fresh, youthful tequila flavor straight from the still. Crafted in small batches using only the finest blue agave and a natural fermentation process entirely unique to the industry, it has a smooth and complex taste that lingers long after a sip. At 110 proof, Directo is a bold expression for true tequila lovers, one that has remained unchanged for over a century. The fourth edition in Tequila Herradura?s small-batch tequila series is 110 proof and straight from the still. It?s an ideal expression for discerning tequila drinkers looking to enjoy the crisp, vibrant flavour of Herradura.
ABOUT HERRADURA
Born in 1870, Casa Herradura is the last true tequila producing Hacienda on the planet. Within its ancient walls, we craft and estate bottle some of the finest tequilas anyone has ever tasted. It is here that we invented the first reposado and extra a?ejo, forever changing the world of tequila. And it is here, from the small town of Amatit?n in the heart of Mexico?s tequila region, that we continue to set the standard for what?s to come.
TASTING NOTE:
Made from 100% blue agave, without barrel aging to reflect a fresh tequila flavour. Crystal-clear in colour with aroma of robust notes of sweet agave, green pepper, citrus and a hint of herbs and spice. Smooth, complex and prolonged presence with a bold tequila finish for true tequila lovers.


---
We Also Recommend