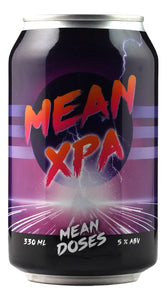 MEAN DOSES MEAN XPA 330ML CAN
Good Lord, these tasting notes 
"Pours a light gold".Okay well, that is literally true.
"Aromas of lime with hints of pine and earthiness." I mean... it smells like fruti and trees? and dirt? Maybe.
Maybe there's a whole ecosystem of taste happening here, I don't know. For me an XPA is a seasonal thing. When a brewery brings out an XPA, you know it's gonna be T-shirt weather soon.
Come on NZ. T-shirt Weather. We're Waiting
---
5.0% ABV.
---
We Also Recommend