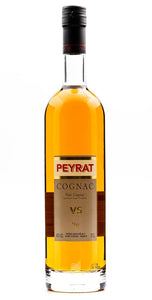 Peyrat Cognac Vs 700ml
$8199

$81.99
Tax included.
---
---
This «V.S.» is a blend of Cognacs coming from the Petite Champagne and Fins Bois areas, both situated near the town of Cognac, in the heart of the Cognac region.
Supplies of young Cognacs from distillers in these areas are carefully chosen for aging and blending under our cellar master's control. It is his skill which guarantees the tradition and continuity of the «Company» style.
Cognacs from the Fins Bois area generally age quicker than those from the Champagne areas and consequently this «V.S.» quality already has a certain maturity and smoothness combined with the elegance of the Champagne.
The fresh grape flavour is well pronounced and still dominates the wood tannins at this stage of aging. The style is characteristic of a well-balanced blend with all the fineness and delicacy one expects of a true Cognac.
Ideal as a basis of a refreshing long drink, this quality will also give you full satisfaction as a classical neat Cognac.
---
We Also Recommend