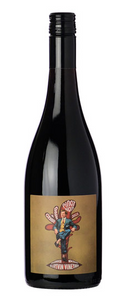 Tongue In Groove Clayvin Vineyard Pinot Noir 2013
$5599

$55.99
Tax included.
---
---
A plush and powerful Pinot Noir from one of the great vineyards, Clayvin, in New Zealand's largest wine region, Marlborough. This vineyard was planted in the early 1990s by Mike Eaton, whose visionary viticultural aim was to give grapes an elevated site on which to ripen where cooler than usual nights would provide longevity to the ripening season... 
The proof is in the bottle of this stunning aged nine year Pinot Noir from Clayvin. 
Tongue in Groove is now owned by winemaker Lynnette Hudson, who is the long term winemaker for the brand. Watch this space for exciting new wines from Hudson's experienced winemaking hand.


---
We Also Recommend