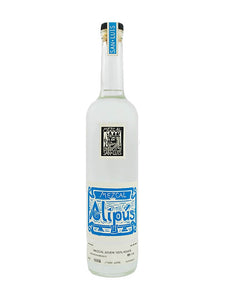 ALIPUS SAN LUIS BLANCO MEZCAL 47.5% 750ML
$11399

$113.99
Tax included.
---
---
NOM: NOM-O14X
Mezcalero: Don Baltazar Cruz Gomez
Maguey: Espadin
Agave: Angustifolia
Distillation: Copper
Style: Joven
State: Oaxaca
Town: San Luis del Rio
ABV: 48%
Release year: 2013


About this mezcal
Alipus San Luis uses agave Espadin that is grown in sandy soil at about 4100 feet above sea level. The soils are sandy with lots of rocks, and the climate is hot. Mezcalero Don Baltazar ferments the cooked agave in 1500-liter pine vats. He distills in copper. His mezcals are rich, full-bodied, and often fruity.
Alipus Mezcal
Alip?s was born in 1999, as a project of the Destiler?a Los Danzantes, with Don Joel Antonio and sons as the first producers, in San Juan del R?o. Subsequently, Don Eduardo Hern?ndez, of Santa Ana del R?o, making Alip?s Santa Ana mezcal; Don Cosme Hernandez and his son Cirilo in San Baltazar Guelavila, who make the Alip?s San Baltazar mezcal; Don Valente Angel and sons, of Santa Mar?a La Pila, with the Alip?s San Andr?s mezcal. In 2013, Alip?s San Luis was incorporated, made by Don Baltazar Cruz and sons, of San Luis del R?o, and Alip?s San Miguel, made by Don Felix Garc?a, Leonardo Rojas, and T?o Jes?s in the Potrero Sola de Vega.
---
We Also Recommend