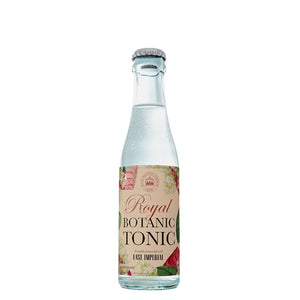 East Imperial Royal Botanic Tonic Water 150mls
The Royal Botanic Gardens, Kew embodies over 250 years of exploration, discovery and the pioneering spirit. Kew played an important role in the story of quinine, transporting cinchona tree seedlings from South America to India. This use of this vital medicinal plant eventually led to the greatest cocktail of all time, the humble G&T.
East Imperial have created this unique tonic water to introduce a subtle brightness to your glass with the refreshing notes of elderflower, combined with the tart taste of ruby red grapefruit and bitterness of sustainably sourced quinine from the highlands of Batavia in Java.
This partnership is borne from a shared passion for exploration, discovery and the natural world. Together East Imperial salute the botanists, the explorers and the rich contribution the Royal Botanic Gardens, Kew has made to their history. So raise your glasses and let's celebrate this remarkable history and partnership with the world's finest tonic water.
TASTING NOTES:
Light, rich and full of zest. Candied violets and elderflower rule the palate followed by a dry and floral finish, full of Grapefruit oil.
---
We Also Recommend