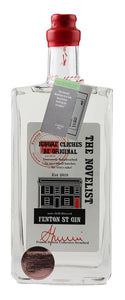 Fenton St Distillery The Novelist Gin 500ml
$7899

$78.99
Tax included.
---
---
The Novelist: Taranaki Bush honey draws together 12 Botanics to produce a smooth complex gin. Bronze medalist at NZ Spirit Awards 2020. 
Botanics: Juniper, Coriander, Horopito, Cassia Bark, Bush Honey, Orris, Almonds, Liquorice, Lime.
About Fenton Street Distillery
Fenton Street Gin is crafted in Stratford at an elevation of 310m/1017 feet. They capture Botanics at altitude. Their botanics are not distilled separately then blended. To ensure flavours are balanced they are carefully measured in much the same way as a chef creates a dish.
Due to the freshness and volume of the botanicals, some of the Fenton Street gins may appear cloudy when tonic is added or sipped on ice. This is because their gins are non-chill filtered. Stuart Greenhill, head distiller said: ?We don?t want to chill-filter. The whole point of our gin is to capture flavours from carefully selected and measured botanics. It seems unproductive to distil in what is essentially a neutral flavoured spirit and then filter out the natural oils again.?
---
We Also Recommend