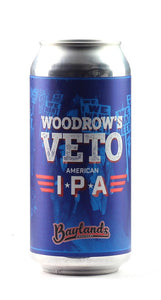 Baylands Woodrows Veto IPA 440 ml
$1050

$10.50
Tax included.
---
---
Baylands - We love American hops and this West Coast style Indian Pale Ale is jam packed full of 'em!
Inside you'll find five different U.S. hops delivering a big aroma and a bitter, yet smooth finish.
Named in honour of U.S. President Woodrow Wilson's short-lived veto of the Prohibition Bill in 1919.
---
7.0% ABV.
---
We Also Recommend