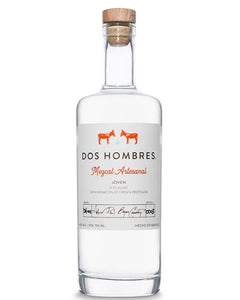 Dos Hombres Mezcal Espadin Joven 84
$17099

$170.99
Tax included.
---
---
"We started Dos Hombres to create a Mezcal that we thought was perfect. A unique blend of the finest Espadin agave, hand-selected from the hillsides of a small village in Oaxaca, Mexico." (Aaron Paul & Bryan Cranston from Breaking Bad)

Scents and Flavours
Apples - The aroma of apples and perfectly balanced Espadin agave tumble in first.
Mango - Hidden freshness and subtle sweetness of fruit scents arise.
Local Fruits - Hints of "zapote" fruits merge.
Wood - A perfectly balanced and soft hint of the wooden barrels in which Mezcal is fermented.
Smooth Smoke - A discreet, almost imperceptible smoky finish portraits the volcanic stone and firewood of our traditional earth-ovens.
42% ABV
---
We Also Recommend