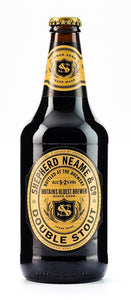 SHEPHERD NEAME DOUBLE STOUT 500ML
A classic double stout from a recipe discovered in the vaults of Britain's oldest brewer.  This beer combines the complex flavours and characteristics of pale ale, roasted crystal and chocolate malts with the finest kilned roasted barley.
This magnificent example of a classic double stout delivers a velvety-smooth palate of dry, burnt flavours complemented by roast, cocoa and coffee notes.  Black, creamy and delicious, it is a Shepherd Neame masterpiece.
---
5.2% ABV.
---
We Also Recommend