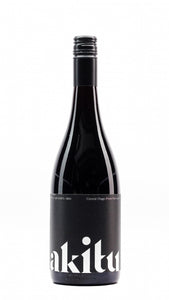 Akitu A1 Pinot Noir Central Otago 2018
$6199

$61.99
Tax included.
---
---
Akitu A1 has all the bells and whistles of great Pinot Noir with seductive red floral and fruity aromas leading into a full bodied, silky and structured wine with 40% whole bunch fermentation and five different clones of Pinot Noir adding complexity. The dominant clone in the blend is Abel (a clone is a variation of a grape variety), which lends this Pinot its impressive structure and a silky mouthfeel. It goes without saying that it takes a warm year and ripe grapes to include a high proportion of whole bunches in the fermentation tank, stalks and all. This wine benefits from its high portion of whole bunches and is possibly the best A1 from Akitu yet. A modest 20% new French oak was used to mature the wine. This lends it weight, smoothness and a soft mouthfeel while allowing the fruit to remain in second place after the charry complexity.
The home of Akitu 
Andrew Donaldson planted his vineyard with 100% Pinot Noir in 2002 and has since developed three distinctive styles of wine from this great red grape variety. Two reds (Akitu A 1 and Akitu A2) lead the production while a Pinot Blanc is now part of the high quality stable of wines from this producer. 
Donaldson employs winemaker P J Charteris to make the wines. 
At Mt Barker, in New Zealand's South Island, in a high glacial valley of sunshine and rain shadow on the edge of the earth, each season leave its own vivid imprint on our vintage.  Extreme temperature variations, alpine air, altitude, adversity... all the wild elements of this exhilarating land combine in a Pinot Noir of great quality from the world's southernmost wine region.
---
---
We Also Recommend