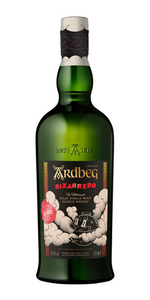 Ardbeg BizarreBQ 50.9% 700ml
$17999

$179.99
Tax included.
---
---
Ardbeg BizarreBQ Limited Edition is the Distillery?s first ever barbecue-inspired whisky.
From the eccentric and experimental mind of Dr Bill Lumsden, Director of Whisky
Creation, and in collaboration with grilling guru, Christian Stevenson (AKA DJ BBQ), this single malt was made to pack a meaty, peaty punch.
The same way it is with grilling, there's one vital element in creating the first BBQ-inspired malt fire. Toasting a selection of three casks, double charred oak casks, Pedro Ximenez sherry casks and BBQ casks, this combined recipe comes together to bring a sweet, tangy, smoky flavour perfect for BBQ!
Aroma - Puffs of charcoal and soot mingle with smoky wood and aromatic herbs and spices. Treacle toffee, hickory smoked ham and cinnamon-dusted espresso rise up.

A splash of water releases distinctively sharp citrus aromas, along with herbal notes such as fennel and aniseed. Grilled artichokes and a suggestion of seared meat sizzles the senses. The undeniable smell of bonfire and BBQ embers lingers in the background.
Taste - The mouthfeel is alive with spice, like BBQ ribs smothered in chilli. A myriad of deep, warming smoke follows close behind in flame-grilled steak, chilli oil, cured leather and clove. Ginger, aniseed and tar crackle on the palate with an aromatic woodsmoke edge.
Finish - The massive, hot aftertaste lingers on and on, with more grilled artichoke, black olives and a sooty note that slowly simmers away.
---
We Also Recommend