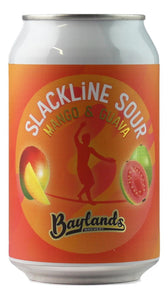 Badlands Slackline Sour Mango Guava 330ml can
Like Slacklining styling a sour beer requires superb balance.  Too far in either direction and it's not going to end well.
The tartness of this kettle-soured Gose (that's pronounced "Goes-uh") is balanced by the tropical combo of mango and guava and a dose of sea salt.
Not too sour and not too salty, Slackline Mango and Guava is simply a beautifully refreshing drop!
---
4.0% ABV.
---
We Also Recommend