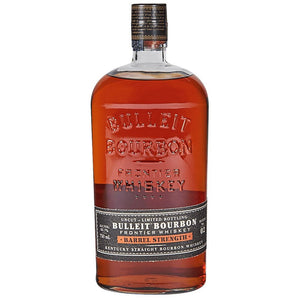 Bulleit Bourbon Barrel Strength 61.7% 750ml
$13499

$134.99
Tax included.
---
---
Distillery Information
Originally opened on Derby Day in 1935 and reopened to the public in 2014, the Stitzel-Weller Distillery is one of the true cathedrals of the American whiskey industry. Located only five miles from downtown Louisville, the Bulleit Frontier Whiskey Experience is one of the most convenient and impressive stops along the Kentucky Bourbon Trail.
About this Whiskey
This second batch of Bulleit Bourbon Barrel Strength is crafted from a mash of corn, rye and malted barley. After the grains are harvested, they are mashed and fermented with a unique strain of family yeast. Following fermentation, the wash is distilled through a copper still before being matured in charred, American oak casks for six to eight years. "Once we're done with the barrels, they're sent over to Johnnie Walker where they'll age the blended scotches," says Bulleit. Proofs range from 118-125.4.
Nose: Brown sugar, caramel, tropical fruit and rye spice on the nose.
Palate: The palate is a clean, with sweet and spicy, notes, followed by vanilla chocolate and subtle rye.
Finish: Smooth and drying with lingering toffee notes.
---
We Also Recommend