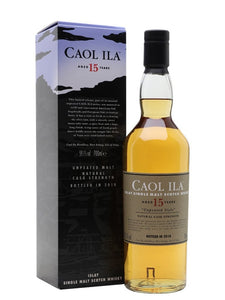 CAOL ILA 15YO UNPEATED STYLE 59.1% 700ML
$21199

$211.99
Tax included.
---
---
The yearly Diageo Special Releases always pack some surprises and it's fair to say an unpeated Caol Ila is probably one of them. This single malt Scotch promotes the distillery's lesser-known side as a sherry-forward Caol Ila that swaps smoke for elegant sweetness. It was matured for 15 years in refill and rejuvenated American-oak hogsheads and ex-bodega European oak butts before it was bottled at a cask strength 59.1% ABV.
Nose: Opens with marmalade-laden buttery toast, milk chocolate and fresh orange notes, before red cherry, strawberry and raisin comes through. Lashes of vanilla and a suggestion of spearmint, too.
Palate: Leads with more of that creamy chocolate, fruity yoghurt and honey. Peach is in there too, and in with all the oiliness is a pine-like quality.
Finish: Yoghurt-covered almonds with some liquorice and, yes, some distant smoke.
Overall: It's an viscous drop that packs a creamy-fruity punch.
---
We Also Recommend