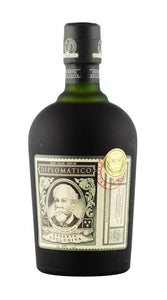 Diplomatico Rum Reserva Exclusiva 40% 700ml
$7599

$75.99
Tax included.
---
---
A complex blend of 12 year old Venezuelan rum, it has sent rum aficionados into catatonic states of pleasure. Definitely not the sort of rum you would blend with coke, but one that you would sit sipping and contemplating the pleasure that life gives. 
this is life changing rum .  Drink with: Dark chocolate and orange ice cream Simply put, one of the richest, sweetest and smoothest rums you will get a chance to try. It's distilled then had a little sugar cane juice back blended into the rum.?
The No. 1 source for rum reviews on the internet, the Rum Howler blog, rates this a 94.5/100, and he certainly knows his stuff. Check out his review here.
---
We Also Recommend