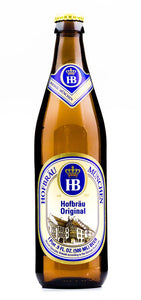 Hofbrau Original 500ml
Hofbrau is a symbol of Munich's hospitality and the Bavarian gift for creating a snug and cosy atmosphere. Beer-lovers from all over the world go there to enjoy its famous beers.More than any other, Hofbrau Original embodies the special atmosphere of the beer making capital of Munich, and exports it to the four corners of the globe. Its refreshing, bitter flavour and alcoholic content of around 5.1% volume have made it famous worldwide. A Munich beer with character.
---
5.1% ABV.
DATED STOCK: This beer is past date or nearing the best before date. The beer will still taste good but not quite so good as when it was first brewed.
Best Before: 07/04/2023
---
We Also Recommend