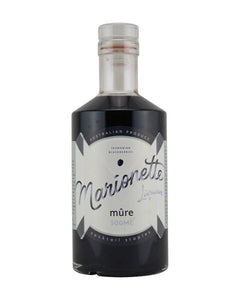 Marionette Mure Liqueur 500 ml
$5999

$59.99
Tax included.
---
---
The small Clark family swells over the summer months as old friends return to the farm in Tasmania?s Derwent Valley to help with the berry harvest. By now, the crop of Thornless Loch Ness blackberries has swollen with vitamins, antioxidants, and anthocyanins. These plump, juicy berries are destined for Marionette M?re?a bright, herbaceous liqueur that tastes like summer on the vine.

No light makes it through Marionette's intensely dark blackberry liqueur. The nose is earthy and full of dark fruit aroma. Tart and almost jammy on the first sip, the sweetness quickly falls away to a glorious, complex palate of sour cherry, spice, and tannins.

Enjoy over ice, in a classic Bramble, or Blackberry Mule.

About Marionette:

Marionette was created by four Melbourne hospitality professionals wanting to celebrate Australian produce and bring liqueurs back into the spotlight. They start with fresh fruit from good people and work hard to capture every last bit of flavour from the produce. Their focus is on creating the optimal building blocks for both classic and modern cocktails?a careful balancing act of sweetness, acidity, and alcohol intensity.
---
We Also Recommend