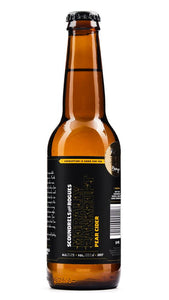 Scoundrels & Rogues Pleasantly Corrupt Apple Cider 330 ml
This cider is the 3rd release of our original style, made with a touch of sweetness, to balance out the full body. It has spent 18 months in barrel, and is comprised of a blend of both dry and sweet cider batches, from a mix of heritage and desert apples. This blend gives it an impressive intensity, rich tannins, and a balanced sweetness, that should not be cloying. Once the juice is pressed it is left to undergo wild fermentation in old French oak barrels. Post ferment, the cider is aged in barrel, on lees, to build complexity and to soften the tannins. It?s designed to be a cider that delivers more than just sweetness and a light apple ?avour, it?s designed to deliver a balance between tannins, sweetness, and alcohol.
This cider is handmade and mildly offensive, but you'll get over it.
8.5% ABV