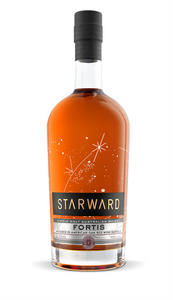 STARWARD FORTIS SINGLE MALT WHISKY 50% 700ML
$12999

$129.99
Tax included.
---
---
Batch #1 of a non-chill filtered single malt at a bold 50% ABV for intensity. Composed from Australian barley and craft brewers' yeast for extra flavour.
Starward age Fortis in 100% American Oak barrels to give a full, rich taste that enhances the toasty oak and vanilla characters of the whisky. Fortis also boasts juicy red wine characteristics thanks to barrels from mostly Barossa Valley wineries, which once held powerful shiraz and cabernets. Some barrels are charred for complexity, most are fresh, lending Fortis the intense red wine flavours that soaked into the barrel staves. They don't chill filter this stronger release to closely represent the whisky that comes from the barrel.

A rich, full-bodied flavour balanced with the approachable velvety smoothness Starward whiskies are known for. Expect upfront notes of Madagascan vanilla pod and toasty oak. The palate is all chocolate ganache, cinnamon, quince and Muscadelle raisin with a lingering baking spiced finish.

Spectacular sipped straight and savoured. Or stir it down with vermouth, Campari and orange bitters, or in another classic cocktail.
---
We Also Recommend