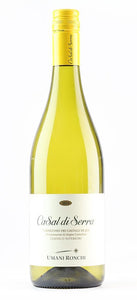 Umani Ronchi Verdicchio Casal di Serra 2021
$3199

$31.99
Tax included.
---
---
A beautiful dry Italian white with depth, complexity and dry nutty flavours, made  from the outstanding Verdicchio grape variety. This is a beautiful wine that drinks well when young and also has the ability to age superbly for at least a decade.
Verdicchio takes its name from the word 'verde' which means green and refers to this green skinned grape, which has its home in the Marche region in Central Italy. There are currently 2,220 hectares of Verdicchio growing in this area and most it is around the town of Jesi on the slopes of the Appenine mountains, which rise to over 6,500 feet. The highest vineyard here is planted 1,312 feet. Vines grow in a diverse range of soils here from clay and sand on the north side of the Esino Valley with  limestone on the south side.
Casal di Serra Verdicchio was first made in 1983 from grapes grown in the Montecarotto Vineyard. It now includes grapes from three other vineyards, all of which are fermented with natural yeasts in stainless steel tanks to preserve freshness and fruit flavours. It is then aged in tank for five months in contact with yeast lees but with no malolactic fermentation. 
Verdicchio tastes great with Seafood, the ideal match with Verdicchio, as is soft cheese.
The Marche region
The altitude vineyards and sea breezes in the warm Mediterranean Marche region both combine to create a wine with vibrant freshness and bright acidity as well as a medium to full body. Verdicchio is nearly always made as a 100% varietal dry white and also lends itself to high quality sparkling wine, thanks to its robust acidity.
The earliest written mention of the Verdicchio grape is in 1569 and it makes some of the most age worthy dry whites in all of Italy, even at relatively modest prices such as this outstanding wine from Umani Ronchi, which is now organically certified and represents one of our greatest hidden treasures on our white wine shelves.
Buy it by the case and watch its tasty flavours unfold over four to five years, potentially longer.
---
We Also Recommend