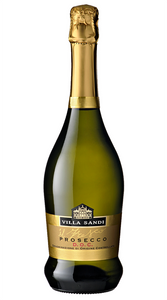 Villa Sandi Prosecco Il Fresco
$2599

$25.99
Tax included.
---
---
Villa Sandi Prosecco is one of our staff favourites here at Regional Wines and it excelled in a blind tasting, which highlighted its fresh white fruit flavours and beautiful balance from cool temperature fermentation in stainless steel.  It has 11% ABV and 17 grams per litre of residual sugar - making it off dry in taste but with great balance so that it finishes on a dry taste note. 
The quality of Villa Sandi Prosecco is consistently high and this wine rated 92/100 with Falstaff.
Villa Sandi is situated in the rolling green hills of the Marca Trevigiana area in the Veneto region of north east Italy - the home of Prosecco.
---
We Also Recommend